Here is Anne's fantastic talk on "Tricky concepts in ED Psychiatry".
Other Resources:
General Psychiatry Resources:
Note: printed copies of the mental health act forms are available on the flight deck from the "Psych Shelf" below the PACS viewer near the ED Ward Clerk (see below):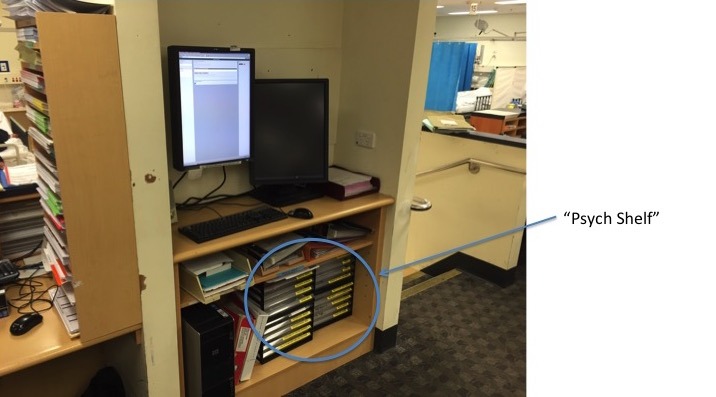 Assessment of Capacity:
Capacity Definition:

Mental capacity can be defined as having 'sufficient understanding and memory to comprehend in a general way the situation in which one finds oneself and the nature, purpose, and consequence of any act or transaction into which one proposes to enter' (www.dictionary.com) – in other words, as the ability to make a decision.

Capacity assessment principles:

A person has decision making capacity to make a specific decision if (at the relevant time) they have the capacity to do ALL :

Understand any information about the decision
Understand the matters involved in the decision
Understand the effect of the decision
Weigh up the above factors for the purpose of making the decision
Communicate the decision in some way.
No Coercion

Assess the person's decision-making ability – not the decision they make
Referral for Psychiatric Examination:
Form 1A (MHA 2014)
A practitioner can only refer a person for examination by a psychiatrist where they reasonably suspect that:

the person is in need of an involuntary treatment order (see below), or
if the person is currently on a community treatment order, the person is in need of an inpatient treatment order.
The assessing practitioner must have regard to the criteria for an involuntary treatment order
The term 'reasonably suspects' is to ensure that even if there is some doubt as to whether the patient should be referred, the practitioner may still refer them for an examination by a psychiatrist
The following criteria must ALL be met before the making of an Involuntary Treatment Order (ITO):

the person has a mental illness requiring treatment
the mental illness presents a significant risk to the health or safety of the person or another person, or a significant risk of serious harm to the person or another person
the person does not demonstrate the capacity to make a decision about the provision of treatment to themselves
treatment in the community cannot reasonably be provided to the person,
there is no alternative that would be less restrictive to the person's freedom of choice and movement.